OVERVIEW:
IBM Data Catalog is part of Watson Data Platform- a data driven platform that allows companies to go from preparation to storage to analysis and back. IBM Data Catalog provides a solution for companies and data professionals to share finalized data assets in a single repository where they can search, find, share, publish assets between their team, their business unit, or even their entire company. 
DESIGN TEAM:
Bhavika Shah (Design Manager), Kacie Eberhart (UX/Visual), Mckenzie Carlile (UX), Joshua Kramer (Visual), Tina Zeng (Research)
WHERE IT STARTED:
Our design team first joined Watson Data Platform in December in 2016. At that time, a team of developers had created a user interface for a product called: Data Hub- a data catalog that worked side by side with IBM Data Science Experience, another product in Watson Data Platform. However, unlike IBM Data Science Experience, the team did not have a design team driving the experience, so everything built was a hodgepodge of features and ideas without a coherent user flow. After joining the team, our first job was to asses the current state of Data Hub and see what made sense and what didn't. Although there were multiple issues, we highlighted 4 major flaws: inconsistent navigation, each page had repetitive actions and content, 9 different ways to load data, and confusing user permission hierarchy. 
DESIGN WORKSHOP:
In January 2017, the design team hosted a workshop with the development and offering management teams to discuss the current issues, the technical restraints, and the future direction of the product. The entire team went through a persona exercise, creating user flows, and even having our development team and offering management create conceptual wireframes. At the end of the workshop, it was decided that in order to redesign the experience, the design team would start from scratch and migrate users over to the new experience.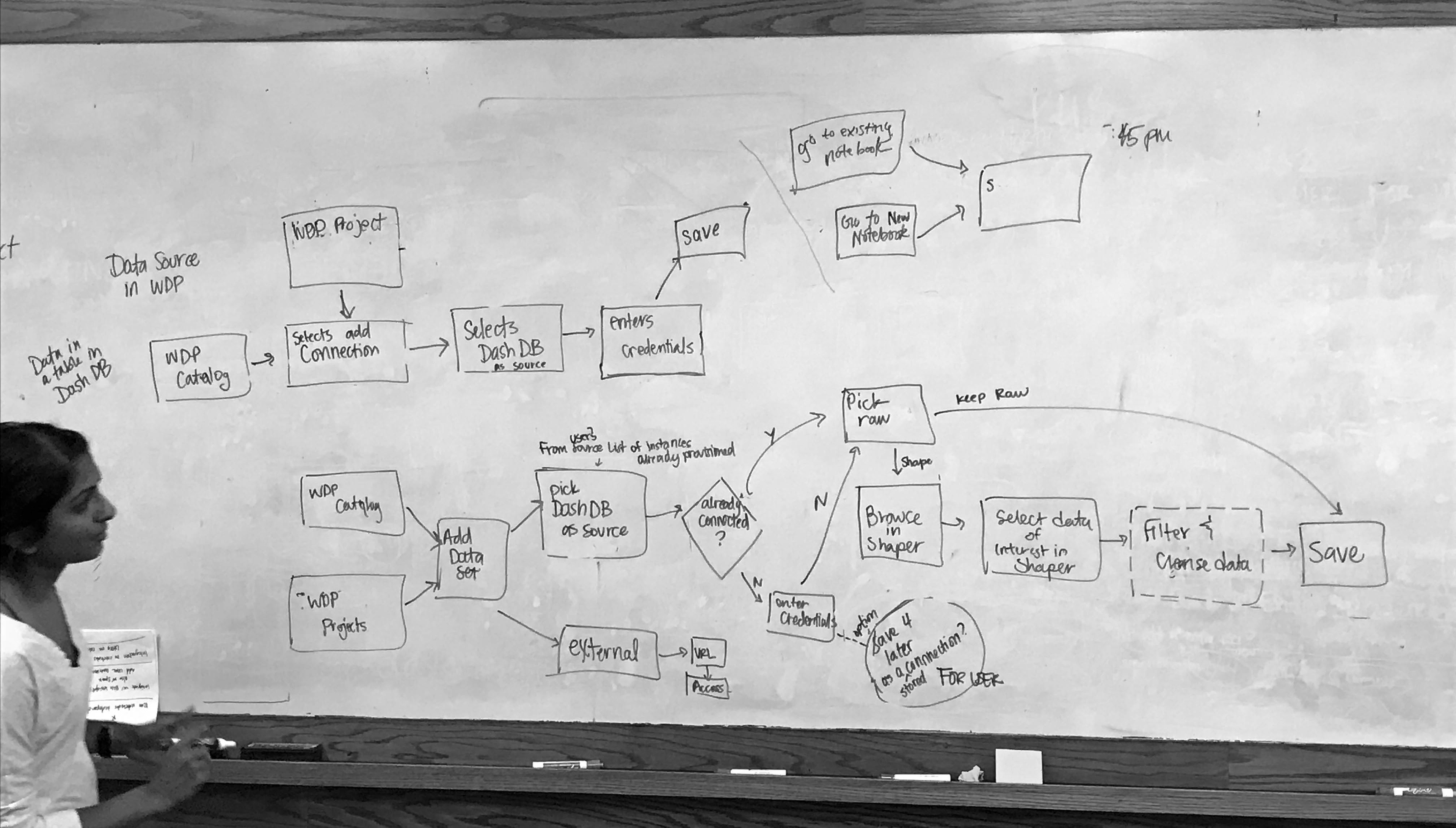 WHAT IS IBM DATA CATALOG:
IBM Data Catalog has two major components: the catalog of data and data governance.
The catalog of data is where users can connect and share assets (data, notebooks, models, flows, and connections) in an organization or company-wide repository. They can also view how the catalog is being used over time and a breakdown of the assets inside. 
Data Governance is where users can enforce policies and rules based upon the assets within their catalog. They can make sure access is controlled to assets which have confidential information, create and view the business terms within their company, and control the classifications related to data assets.